Pickleball at Beech Mountain Club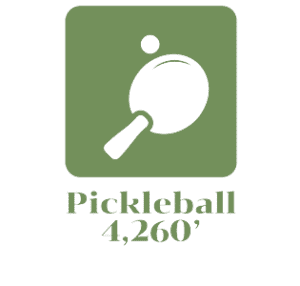 Beech Mountain Club Pickleball Center has nine dedicated, state-of-the-art local pickleball courts located at the heart of the Club's recreation campus. Deck seating and a convenient sports café overlook the pickleball courts, along with a covered pavilion for social events. An IPTPA certified pro on-site directs the Club's program during the summer, which includes private pickleball lessons, free clinics, drop-in play, sponsored tournaments, social events and Drinks & Dinks, as well as special sessions throughout the week. All these amenities are included with your Club membership, making it one of the best values you'll find anywhere.
Our mile-high location in the NC mountain offers breathtaking views of North Carolina, Tennessee and Virginia, with temperatures that rarely rise higher than 80 degrees. Along with pickleball, Club membership comes with access to state-of-the-art tennis, golf, swimming and fitness amenities, all in a family-oriented community filled with social activities that everyone can enjoy.
Want to learn more about how you can improve your pickleball game at Beech Mountain Club? Complete the form here!